---
February 20, 2008
Theoretically
Clarke's Third Law:
Sufficiently advanced technology is indistinguishable from magic
Foote's Corollary to Clarke's Third Law:
Sufficiently advanced cheap hacks are indistinguishable from technology
See also:
Clark's Law
Update: I actually did write this post well in advance of the news...
---
Thoughts While Ripping My Krautrock Collection
Neu + Serge Gainsbourg = Stereolab
CAN: definitive experimental confirmation of Foote's Groove Theory, to wit:

It doesn't matter what's on top as long as your rhythm section is smoking

.
Harmonie: god this would have been my favorite band had I heard them as a teenager
Popol Vuh: makes Herzog worth it
What the heck is Charlie Parker doing in my Krautrock collection?

Kraftwerk = GOD. I confess to having a total adolescent fantasy that Kraftwerk, hanging out after Coachella, comes across SWARM and naturally think it is the necessary thing for the cover of their next album "

Die Kugel-Maschinen

"

Labels: music
---
So I thought I knew minimalism...
No, not
DWR
. The usual Kahunas. Reich, Glass, Adams. Some of my favorite music: definitely tickles whatever symphonic Asperger's neural feedback is going on in my cortex. (Tim Page, in his
eloquent essay on the subject
, talks about his shock of recognition upon first hearing Reich's
Music for 18 Musicians
.) I had a similar shock and have been a connoisseur of the minimal, a fan of the drone, ever since I can remember.
So it's a true pleasure to discover an unsung master in
Charlemagne Palestine
. Right now I'm listening to -- technically blasting --
Schlingen-Blängen,
which is more than an hour of a single organ chord. While some neurotypicals might find that tedious, I find it
gorgeous
. You see, there's
all sorts of things
going on in the music: harmonics, beats, overtones, pedal tones: a symphony's worth of rolling gorgeousness. Or more. It's just great.
Labels: music
---
Think you are rational?
I love these concrete demonstrations of human irrationality.
Play the "
door game
" and see for yourself.
---
February 18, 2008
One of the few pieces of gear I don't really need right now...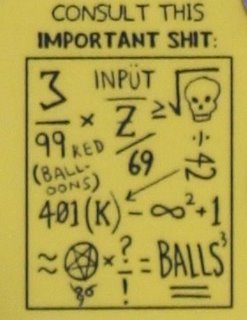 It's the
Scrotum Smasher
from
Metasonix
.
---
February 17, 2008
Ahhh... that's better...
Blogging from my own domain... no more nasty banner ads, yuck.
Come on by, y'all!

Do these comments actually work?

Subscribe to Posts [Atom]